Tub & Shower
Surrounds
Are you ready to give your old, or outdated bathroom a Boost?
Starting with a new shower surround can not only improve the looks of your bathroom, but it can also improve the function too.
What is a Shower Surround?
A shower surround can be loosely defined as the area above the tub line or shower floor. A shower surround can be made from a variety of materials depending on your preference or your budget.
Tub Cove has specialized in installing Tub and Shower Surrounds since 1974- we have literally completed thousands! We are your Local Tub & Shower Surround Experts, and we are not shy about our expertise!
Tub Cove Concentrates on Installing Cultured Marble (or Solid Surface) Walls and One & 2 Piece Laminate Surrounds.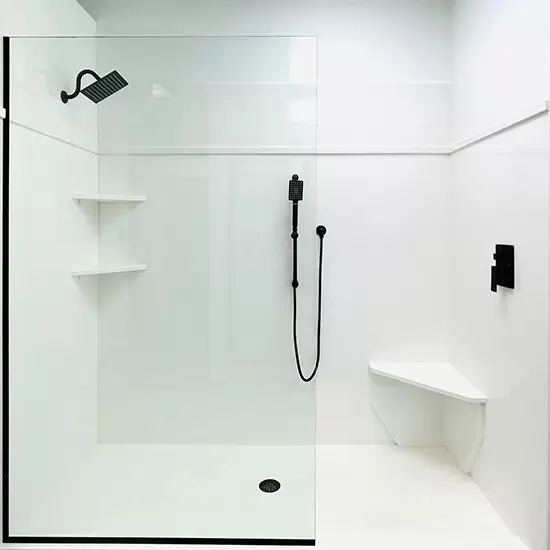 What is
Cultured Marble
and Why Should you Choose it for Your Bathroom?
Cultured Marble offers an elegant, practical & affordable alternative to tiled walls.
Cultured Marble is essentially a factory-made stone comprised of approximately 75 percent crushed natural marble that is blended with liquid polyester resin. Pigments are added to create a vast selection of colors and patterns that, once hardened, are factory sealed and polished. Cultured Marble is resistant to staining and growing mold and mildew. It is also Custom-Cut to meet your specific design needs. Cultured Marble is the perfect solution for your shower or tub!
Please Visit our Color Library to help you with your Cultured Marble Color Selections
View Color Library
What is a
Laminate Surround?
Laminate is a high-quality, modest and less expensive option to a solid surface surround.
Laminate Surround (or shower wall) gives you a one- or two-piece wall that we custom bend for you right here in our Redmond location. Our Laminate is a top-quality material supplied by Wilsonart. Wilsonart has a huge selection of colors that you can choose from for a beautiful surround . We have simplified the color selection process by keeping 16 colors in-stock for easy ordering and a quick installation turn-around time.
Please Visit our Color Library to help you with your Laminate Color Selections.
View Color Library
Tub & Shower
Surrounds Gallery
How to Get Started
Call us and see how we can help.