Our Products & Services
At Tub Cove we offer experienced service when it comes to bathroom plumbing, remodeling, tub and shower conversions, and more. With all of our services we only use the best products in the business for guaranteed satisfaction.
Bathroom
Remodeling and More
At Tub Cove we know how important it is to not only have your bathroom functional but also to have it look amazing. Bathroom updates and remodels look clean and fresh and add value to your home. Whether you're looking to completely renovate your bathroom or just want to make a few changes, you can count on our experienced team to get the job done. We offer a variety of bathroom plumbing and remodeling services that will make your bathroom the envy of the neighborhood!
Besides offering excellent service and products, we strongly believe in doing the right thing for our clients. This is why they trust us with their projects. We work with our clients to learn about what they want and need so that we can make that happen. At Tub Cove, we go above and beyond to serve our clients. This is what has helped us to stay in business for more than 45 years.
If you're looking to change the look of your bathroom or need bathroom plumbing services, contact us. See why so many people trust, recommend and come back to us for all of their remodeling and plumbing services.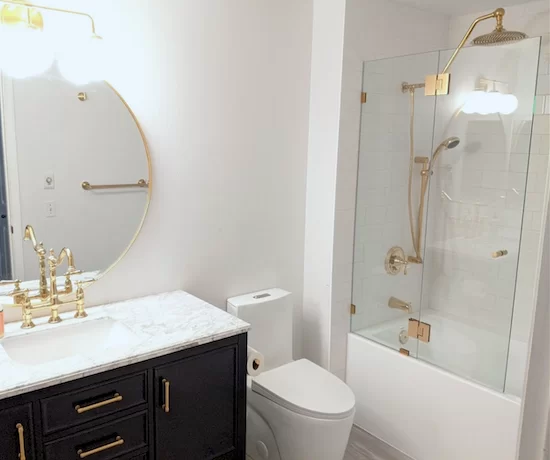 Customer Testimonials
The sales reps were knowledgeable and friendly. I had a lot of questions that they answered cheerfully and correctly. The tech guy was super cool, funny, careful and efficient. I had a shower surround that I purchased from Tub Cove 30 years ago and they were still able to match. I highly recommend this company.
Connie H.
My wife and I chose Tub Cove to install cultured marble shower and bath walls because we wanted a high quality surface with no grout that was easy to clean. They were prompt, responsive, and went above and beyond the call of duty when they fashioned a custom marble casing for an existing octagonal window. The marble is stunning. We will enjoy its natural beauty for many years to come.
Charles F.
I highly recommend Tub Cove, and the great team I worked with, especially Jim and Jeremiah. Tub Cove resolved a cracked shower pan issue in our shower. A previous contractor had neglected to add a solid foundation under the old shower pan, and Tub Cove remedied this (aka saved the day!) The full experience was about 3 weeks from meet and greet to completion. Very speedy! They were very forthcoming with costs from best to worst case scenarios. As well our final bill was precisely as discussed. The final product is perfect and met if not exceeded my expectations. The crew working on my project was polite, professional, and good about communicating as their work progressed. Thank you Tub Cove!
Jennifer G.
Tub Cove was absolutely amazing to work with and we could not be happier with the final product. It all started with a radio ad and a claim to provide excellent service and products for less than other companies. They absolutely did what they said they would. Due to Covid, nearly everything was done over the phone, with conversation, text messages and pictures. Jim was wonderful...patient with all of our questions and concerns, knowledgeable and creative. Lexi was simply a delight to talk with and everyone that came into our home to do the work was professional and courteous. Our new, walk-in shower is beautiful! Best decision EVER!
Cindy M.
We had a Cambridge tub and marble surround installed to replace a 52 year old fiberglass unit. A few minor installation problems were solved by Tub Cove quickly without delay, and the new installation looks fantastic. The work was done promptly, courteously and professionally. We highly recommend Tub Cove.
Robert H.
Complete replacement of master bath and hallway bath fixtures, walls, and tub/shower. Everyone was professional, pleasant and easy to work with. The remodeling work they did contributed to the successful sale of our home for above asking price.
Ruth L.
Tub Cove was incredible. We called for estimate and within 48 hours they were out, with it scheduled for a week or so later. It was also over the holiday time. They went above and beyond to make this happen! They were amazing!
Connie L.