AGING IN PLACE: HOW TO MAKE YOUR BATHROOM SAFE
For decades Tub Cove has been passionate about the safety of our clients. A large part of what we love to do at Tub Cove is making the bathing spaces in your home safe for everyone, no matter the age or abilities. Bathrooms are the most dangerous room in the house because, for SO MANY people, stepping over the tub is a nightmare! Getting over the tub can be very difficult for people with disabilities, who have had surgeries, or if their knees don't work the same as they used to. For clients that have specific needs, there are options.
Should I convert my tub to a shower?
The most popular choice for a safe bathing space is a tub to shower conversion. A tub to shower conversion is when we do a complete tear out of a tub and surround (don't worry, we haul away any debris caused from the demolition) and replace it with a walk-in shower. Our walk-in showers can be made to custom size to fit almost any space; so whether you have a large jetted tub you hate, or just enough space for a small stall shower, we can get something that fits your needs!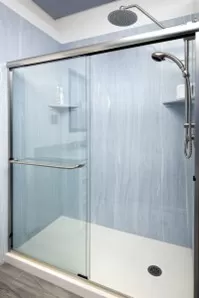 What type of shower floor pan would be best for my needs?
A shower floor pan with an anti-slip texture is the best for people who are specifically worried about slipping. Tub Cove's custom pans are made with a textured non-slip surface. These pans are made out of our Engineered Stone material. While our acrylic shower floor pans are ADA compliant, sometimes it is best to take that extra step to ensure the safety of ourselves and our loved ones.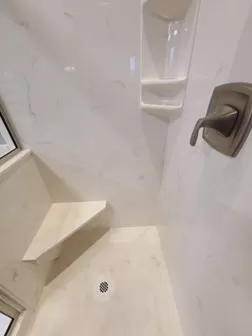 What if I still want to soak?
For those who love to soak, and don't want to give up their bubble baths, a walk-in tub could be your answer! Bathing is very therapeutic, and has been found to help with arthritis and can even improve heart health. Walk-in tubs often come with features like aromatherapy and hydro jets. You can even have a walk-in tub / shower combo! Most walk in tubs come with an under 4" threshold, for easy access to the seating space.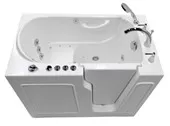 Do grab bars make my space safer?
Grab bars are an important part of any safe wet space. While some people think that grab bars are only for old people… That couldn't be further from the truth! Water is slippery, no matter your age. Any age can utilize grab bars. Whether you have small children, just had a surgery, or any other reason, a grab bar is undeniably helpful. Tub Cove installs grab bars into a wooden blocking, anchoring the grab bar into the wall. Our grab bars can be placed anywhere, with no requirement to hit an existing stud in the wall. We also offer grab bar shelves – which have the strength of our regular grab bars, while also being able to hold all of your soaps and shampoos.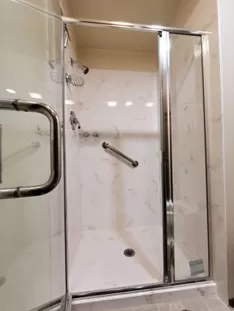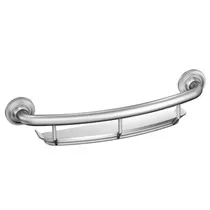 How do I know what materials to use?
There are many attractive options and materials for doing this type of remodel. One thing to consider when looking at materials is the cleaning aspect. Cleaning a grout can be time consuming, and incredibly difficult. Tub Cove has a wide variety of Laminate and Engineered Stone colors and styles. Laminate offers an economical yet durable choice, and the Engineered Stone offers a higher end look without the high end price. Both are durable and long lasting products, as well as low maintenance. People all around the Seattle area have trusted Tub Cove to install laminate and cultured marble for years.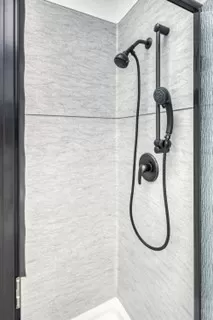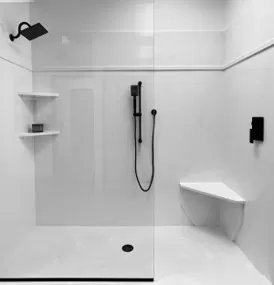 Are there any other safety features I should put into my bathing space?
A handheld shower head could be essential for some people. Not only for personal bathing, but also for cleaning the tub or shower itself. Many people also like to sit in the shower. Whether you put in a permanent seat, or a shower chair that you move in or out, it can be very helpful to have a handheld to reach wherever you are sitting.
There are several choices for seating options in a walk-in shower. Many people opt to put a permanent seat into their shower instead of having the hassle of moving a seat in and out of the shower. The most popular choice for a seat would be a fold up and down Teak Seat, so when the seat is not in use the shower doesn't feel any smaller. However, many people find shower chairs to be more convenient for them. Shower chairs are portable, making it easy to shower in other showers.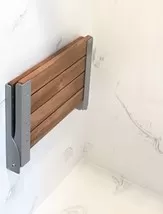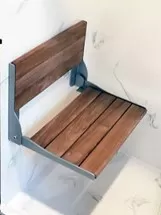 Whatever your concerns may be, there are ways to make your bathroom safe without compromising it's looks and functionality. Whether you are looking for a tub to shower conversion, or a walk in tub, Tub Cove has expert a team of Designer's who will give you advice and help you find the solutions you are looking for. Tub Cove has been helping the Seattle area age in place safely for years, and we will continue for the years to come.